Hartman's Home
Hartman's Corn Maze is a Mosheim Tradition and unique outdoor experience. The corn maze and hayride run from September 1 through October 29. The haunted maze and haunted hayride ran on Friday and Saturday nights from September 22 through October 28.
NOTICE: Closed Monday through Wednesday, except for Scheduled School Groups.
2017 Zombie Hunting Season is coming up quickly, we will be starting September 22 this year and run every Friday and Saturday night through October 28. This year we have upped the Paintball count by 50%, you will start with 150 paintballs instead of the 100 you got last year and we are only increasing the price by $3.00, this year it is $20.00 instead of last year's $17.00. But do bring some cash to purchase additional refills during the hunt, our ball handlers can only accept cash on the vehicle (or your prepaid receipt, if you purchased refills online ahead of time).
Our Zombie Paintball Hunts are a Unique Experience, even among Zombie Paintball Hunting Industry. When you join one of our Zombie Paintball Hunts, you will board one of our 5-ton military vehicles via the attached trailer and pick one of the 18 stations, (9 on the trailer and 9 on the truck). Our team has preloaded your weapon with 150 paintballs, you always have the option of purchasing additional paintballs, ($5.00 for 50 additional Paintballs, you can prepay for refills online if you want).
Once your journey begins, we make the short ride to Zombie land, our staff will explain the specifics of your weapon, uncapping the muzzle, turning off your safety, the range of motion and some of the targets to look for. As you enter the village our staff will let you know when the best time to start shooting, so you don't waste any ammo by shooting too early. We provide enough ammo with 150 shots for the average hunter, however if you are prone to shoot a lot or you just like to shoot early, shoot fast or shoot a lot, bring some cash for refills or buy your refills ahead of time and bring your receipt either on paper or digitally on your phone.
As you journey through zombie land you will be shooting at some stationary targets, 20+ animatronic zombies, several pop-up targets and several of the best live zombies who will taunt you all the way through your hunt. . . . Save time when you get Hartman's Corn Maze & Zombie Paintball Hunting by prepaying online with your Credit Card, Debit Card or eCheck through PayPal The safest way to pay online. Good Hunting - See you there . . .
We look forward to seeing old friends again this season, along with some new visitors. For those of you who came out this year, Thank You - We certainly hope all of you had as much fun as we did. We are working on some new targets and a host of new zombie features for this season. For those of you who have not visited us yet, plan on a visit soon. Please post your experience with us in our Facebook page . . . .
This year we are once again adding several new features in addition to the ones added for the 2016. For the Zombie enthusiast we introduced two styles of Zombie Paintball Hunts, Daytime hunts you will fire at hordes of animatronics zombies in our specially designed village. As darkness rolls in the evening hunt will also include live zombies along with the animatronics. In order to hone your hunting skills we also daytime zombie hunts with the animatronics, stationary and other targets during our normal business hours for all ages starting October 1.
We have an online payments so you can pay online, print your receipt, email it or save it to your smartphone and get right to the fun when you arrive. Use your Debit or Credit Card, Bank Transfers or eCheck, all payments are processed though PayPal, the net's largest and safest online payment processing center.
We would really like to see you come out and visit with us next year. We are a family owned, family friendly, corn maze and pumpkin patch and Fall Gifts Center onsite located on Blue Springs Parkway in Mosheim, Tennessee. Our corn maze is 8 acres and has approximately 3 1/2 miles of trail in it. There are many twists and turns and numerous chances to get lost. Our goal is for each of our guests to have a great time and want to come back and see us again. If you have any questions, check our FAQ's or feel free to contact us via email at bruce@hartmanscornmaze.com or phone at 423-422-4836. We look forward to seeing each of you again this year.
If you are looking for a fun and unique place to have a birthday party, church or social group outing, or any other type of group outing, think about having it at the maze! We offer special discounts for groups with advance reservations and will tailor an outing that is perfect for you and your group. Just give us a call at 423-422-4836 or send us an e-mail to bruce@hartmanscornmaze.com and let us help you make that special occasion even more special!

"Come out and Get Cornfused"
The 2017 Zombie Season is here NOW!
New Videos will be available here
Full HD 1080p mp4 version, Coming Soon

All our videos are available in the Photo Gallery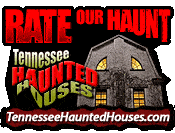 Rate Us at . . . .
Tennessee Haunted Houses
Tell them how much fun you had
at our Corn Maze, on our Hay Rides
or Hunting Zombies
at our Compound . . .